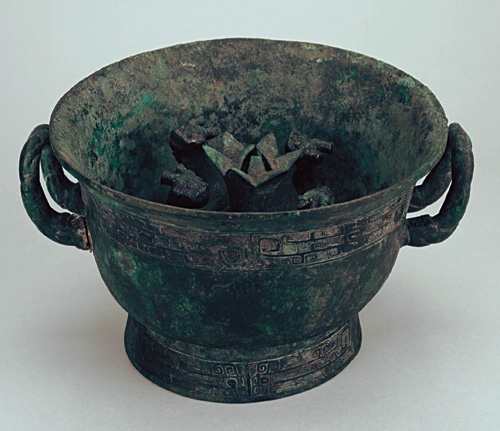 Yu Basin with Revolvable Dragons
Item No. : R001089-90
Late 14th-mid 11th century B.C.
Height 15.7, diameter of mouth 26.1, diameter of ring foot 16.4 cm.
Excavated/Findspot
Sacrificial Pit M1005, Hsi -pei-kang, Anyang, Honan
Two almost identical items were found. The basin is shaped like a kuei bowl with flared mouth and a pair of cord-shaped handles turning upward. One band of k'uei dragon patterns (two of which form an animal mask) appears on the upper portion of the vessel and the ring foot. The central post inside each vessel is unique; at the top of the post is a flower-shaped ornament with six petals. Extending from the post are four three-dimensional dragons with raised heads.