Concept
With the MIHP's exhibition "The King Demands Hot Water" as its theme, this activity introduces the washing implements and process of the king of the Shang dynasty. By using "magnets of the king of the Shang dynasty's washing implements" found at the MIHP Shop as an interactive medium, we will explore how one used hot water to bathe thousands of years ago, perhaps even evoking the material memories of the older friends and family in our lives who may have fetched and boiled water themselves for washing.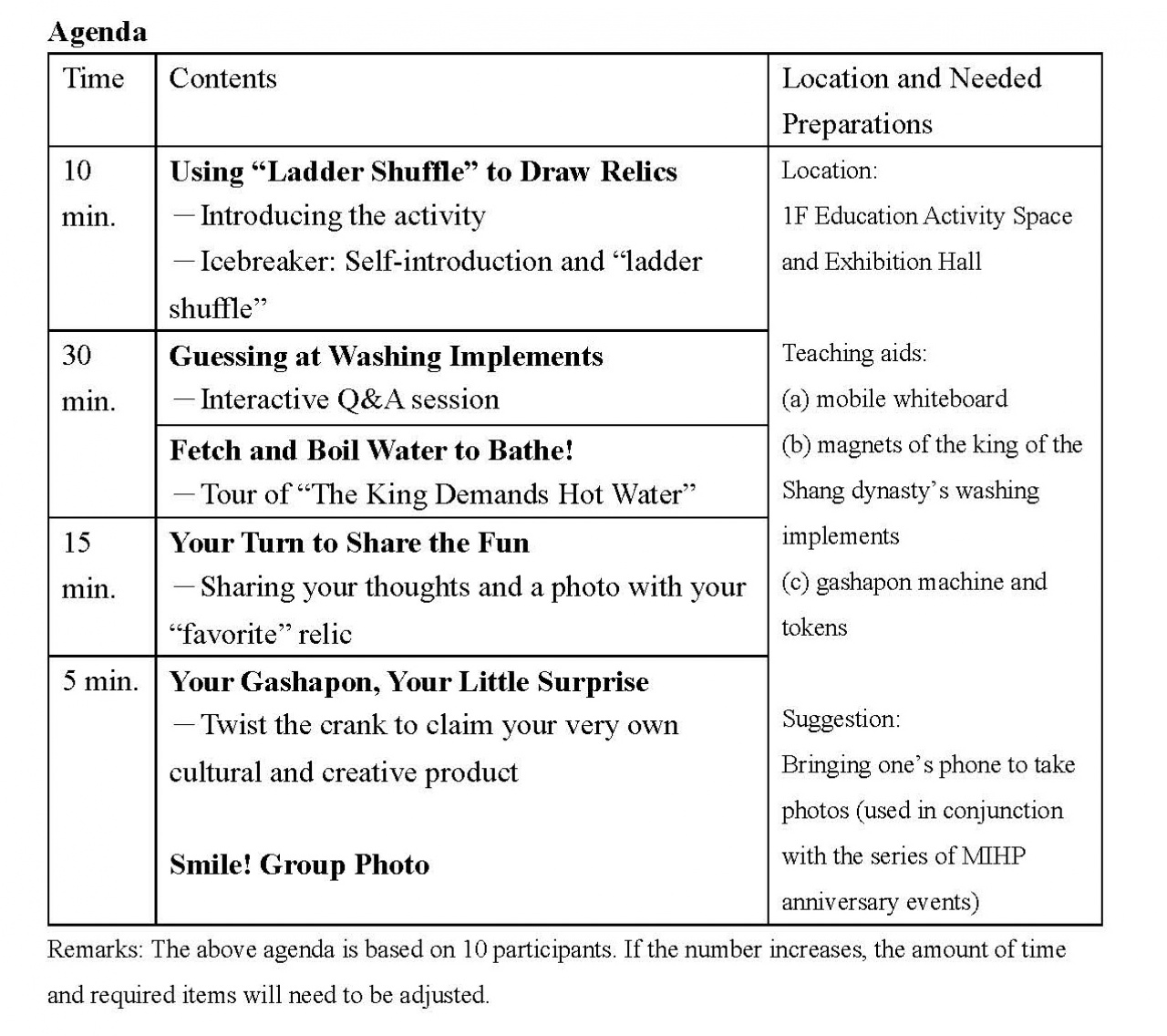 Introduction to "The King Demands Hot Water" Exhibition
The majority of homes today are equipped with water heaters, and if desiring to wash with hot water, one simply turns on the faucet and watches warm water flow forth. But from 3,200 to 3,300 years ago during the late Shang dynasty, how did the king of the Shang dynasty, the royal family, and members of the aristocracy freshen themselves up? How did they bathe? And did they use hot water?
Through unearthing the king of Shang's "national treasures" and washing implements, we can now imagine that the king demanded to be bathed using hot water. To begin, A
ting
cauldron was used to boil the water, and a
ting
cauldron with a single handle then drew the water out to be poured into a
yü
basin or
pou
stoneware vase for use. When washing the king's hands or face, a servant poured the water using a
shao
ladle and the water then collected in the
p'an
plate with dragon decor. For bathing, skin scrapers were also used to remove any dirt or dead skin. These processes, from start to finish, were all attended to by servants. (Link:
http://museum.sinica.edu.tw/exhibitions/83/
)
Please note:
Participants are required to comply with Covid-19 control measures, including wearing a face mask for the entirety of the event, having your temperature taken, sanitizing your hands, and registering your contact information.
The temperature in the exhibition hall is kept at around 20℃ (68℉). Please dress accordingly.