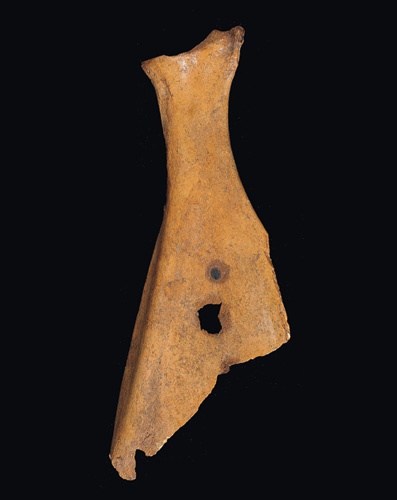 Oracle Bone
Item No. : R021421
2600-2000B.C.
Maximum length 14.2, maximum width 5.3 cm
Excavated/Findspot
Ch'eng-tzu-yai, Li-ch'eng, Shantung
This oracle bone was unearthed from the lower cultural stratum of the Ch'eng-tzu-yai site, and clearly belonged to the Lung-shan culture. There are two differences between oracle bones of the Lung-shan period and those of the Shang dynasty. The Lung-shan oracle bones show no signs of systematic T-shaped drilling used to control the crack-signs and contain no inscriptions. The oracle bone is used for divination and reveals aspects of the spiritual life of the Lung-shan culture.